Welcome to the PC Building Simulator Wiki
This is the unofficial wiki about PC Building Simulator, a game about running your own computer repair shop.
Describe your topic
Write a description about your topic. Let your readers know what your topic is about and add some general information about it.
Latest update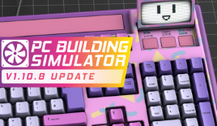 Version 1.10.8 has been released featuring Murder by Numbers style peripherals! To check out the full update click
here
.
Latest activity